Instant Plays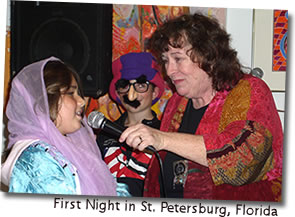 A successful and charming offering employed by every major Washington State library system, many school assembly programs, in theatre residencies in Nevada, Alaska, Florida and Washington, and on kids' festival stages over the years has been Holly's improvised invention, Instant Plays.
Originally developed in 1985 for Young Authors' Conferences, Instant Plays use characters created by audience volunteers who then don simple, colorful costumes to perform with others in a play that Holly directs and narrates as the storyteller. All lines are repeated after the storyteller, with plenty of room for surprises as well as kid-inventions too, often with hilarious results.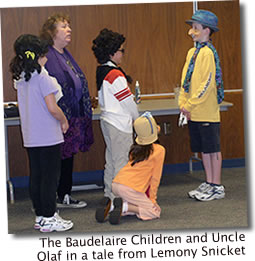 This hour-long program involves up to 40 children in 2 or 3 plays, sometimes with original poetry or songs coming forth as the action gets going. Sometimes there is dancing and rhythmic fun with recycled percussion instruments, and every show begins with Holly's popular call-and-response song, "In My Imagination".
This show is perfect for kids 5 – 13 years old. Imagine no stage fright! No worries about what to say! Kids dress up, get onstage, have fun with a character, speak lines, pay attention to each other, make a story happen, and learn some stagecraft to boot. Wonderful camera opportunities abound, and parents can play, too.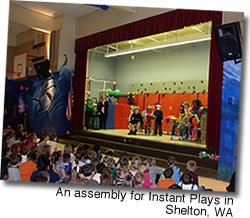 Instant Plays also lend themselves to acting scenes from well-loved children's fiction such as the Harry Potter stories, the Series of Unfortunate Events in the lives of Lemony Snicket's Baudelaire orphans, or favorite works specific to a locale, such as Our Only May Amelia, set in Naselle, WA. Other literary possibilities abound, including some of the works of popular authors like Cornelia Funke or Philip Pullman. It's possible for the school librarian to work with Holly to craft a show using characters from a popular library book of the school's choice, too!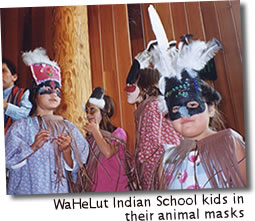 Costumes include brilliant scarves, critter noses, dragons, props and hats for knights, princesses, kings, queens, jesters, rock stars, heroes and just plain folk. Brooms and robes, wigs and masks for Harry Potter and Lemony Snicket shows make any child eligible to be any character from Count Olaf to Hermione Granger.
Bright, sparkling fun abounds with Instant Plays.
What Folks Are Saying About Holly and Instant Plays…
"This assembly was one of our very best. The kids, at all grade levels, were mesmerized and engaged. Holly's talent of creating and weaving a story on stage, with so many characters, and instantly--was so fun to watch and be a part of. Our students and teachers loved it. Everyone had a great time! We will definitely have her back!"
– Tanya Murray, Enrichment Coordinator, Hansen Elementary
"Holly's Harry Potter and His Pals was just plain fun. Her ability to create the scene, give voice to the many characters and to involve the children was just phenomenal. Holly was careful to give all of the 60+ children who wanted to participate a chance to be in one of the plays…parents and children came out smiling and thanking us for a wonderful time. I highly recommend Holly Gwinn Graham.
– Carol A. Rice, Children's Librarian, Oak Harbor Library
"Holly's conception of Instant Plays is a great one, providing the kids a wonderful way to get involved in the story and the program, while providing the audience with an entertaining show! Her enthusiasm and dramatic flair made the presentation shine…I look forward to seeing interpretations of other great books!"
– Laurie Field, Children's Librarian, Shoreline Library, KCLS
"Thank you, Holly, for your virtuoso performance! Your brilliant structured improvisational theatre created such excitement among the children."
– Jonathan Betz-Zall, Children's Librarian, Edmonds, Sno-Isle Library System
"Watching a play take shape right before our eyes with a few simple costumes, a lot of imagination, and Holly's infectious energy, was wonderful!"
– Kathleen Wilson, Children's Librarian, Port Orchard, Kitsap Regional Library System
"I highly recommend Holly for anyone looking for an extremely entertaining event that will amuse both adults and children and provide the opportunity for children to use their imaginations and develop self-esteem on stage."
– Leslie Moore, Children's Librarian, Arlington Library, Sno-Isle
"I enthusiastically recommend Holly as a professional performer who presents captivating dramatics programs. Holly gave her Harry Potter and Pals program…seamlessly fed children their lines…they would even mimic her accents and wonderful mannerisms. Every act, she would choose a new cast so all children were able to participate. All were having a great time and went away happy about the experience and their acting abilities. I would jump at the chance to have her back."
– Linda Allen, Librarian, Monroe Library, Sno-Isle
"Given the age span and diverse characters created by the children, Holly's ability to improvise stories was amazing. She is a woman of many talents, an improv genius."
– Colleen Cunningham, Children's Services, Port Angeles, North Olympic Library System
"Holly's Lemony Snicket program was a dreadful delight! She really was inclusive, allowing for participation from 3 to 11 year olds. I especially appreciated her literal storytelling from the books – all from memory – wow!"
– Sara Doyle, Children's Librarian, Carnation Library, KCLS
"It was such a pleasure to watch Holly interact with our special needs students at the Mahaffey Theatre! Her talent, enthusiasm, rapport with the children, and sensitivity to their needs was wonderful to watch. Their joy at performing with her in Instant Theatre pieces showed how engaged they were in learning through the arts."
– Kay Campbell, Pinellas County Arts Council, Clearwater, Florida
"Holly's settings, props and costumes make the book come alive. I recommend her program as a literature-based presentation for schools and libraries."
– Deborah A. Schneider, Public Programming Coordinator, KCLS
"Holly Gwinn Graham seems to perform acts of magic. She has, without a doubt in my mind, a special, unique talent to encourage children to imagine, to create, to risk, and to grow. Holly accomplishes all this in a manner I have never seen anyone else do! Though I have seen Holly perform her creative 'theatre' work with children on numerous occasions, I truly look forward to the next time. I know it will be something I've never seen before!"
– James Endicott, Teacher/Historian, Lakewood, WA