About Holly Gwinn Graham
Holly Gwinn was born in Chicago at the end of World War II to parents who were military veterans.  Her mother was in the journalism wing of the Women's Marine Corps and her father was a Merchant Marine captain. Her ancestors supplied Welsh, Irish, French, German and some Native American influences, and she used to want to be a cowgirl until she discovered roller skating, then theatre, then music, then adventure, then art.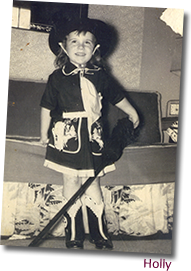 Holly and her mother moved to Florida in 1948, when it was mostly jungles, palm trees, sandy roads leading to pristine beaches, and swamps wherein gators honked. Holly's mom taught her to draw, sparking a lifelong love of and ability in art. Over the years, Holly has been a tour guide for The Circus Hall of Fame, a secretary for the Carpenters' Union, a receptionist for Cecil Sharpe House, a teacher, a professional actress, a radio producer, an editor, and writer for various publications, composer, songwriter, playwright, Sunday school teacher, artist, and mother.
Holly grew up in St Petersburg, where she learned to sing in the Methodist choir, and then in Bradenton across the Skyway, where she soloed for the Christian Scientists on Sundays while attending Manatee High School, and later The University of South Florida in Tampa, majoring in Theatre, minoring in English. At USF she performed 30 lead roles in a variety of plays including musicals like The Fantasticks during her four years of study, reaching a seminal turning point with a USO tour from the college that took her and the theatre troupe to Iceland, Greenland, Labrador, Newfoundland to perform A Funny Thing Happened on the Way to the Forum, and then to 60s England, where she fell in love with the place and the amazing scene.
Graduating in 1967 from USF, Holly moved to England in May of 1968 at the invitation of good friend and jazz guitarist Diz Disley, who took her around the folk and jazz clubs in the city and the towns, introducing her to an exciting music scene and, in late-night clubs like La Fiesta, to luminaries like singer and songwriter Sandy Denny, then making folk history with Fairport Convention, who became Holly's fast friend.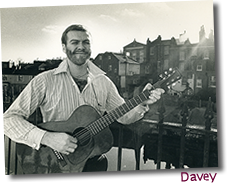 Finding a sign on Portobello Road saying Davy Graham was giving guitar lessons (he added the –e- later), Holly went for lessons and the two fell in love, marrying, and recording two albums together on Decca (The Holly Kaleidoscope) and President (Godington Boundary). Davey's career was in full-flight, and Holly managed his tours as well as performing with him in France, Scotland, and around England, including Covent Garden. The two spent many happy times on the road and in Sandwich, Kent, where they lived for a year running a folk club at the beautiful redundant St Mary's Church, also touring, and recording.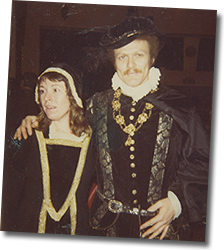 Returning to Florida at the behest of her mother at the beginning of 1974, Holly went to work in dinner theatre, earning her Actors' Equity card in a musical with Andy Devine. She worked with greats of the silver screen Sal Mineo, Yvonne deCarlo, Mamie VanDoren, June Allison, and Dick Powell Jr. during that time. Unable to return to Davey, she suffered, but survived. The two stayed married for 24 years, reuniting once when they both performed at The Vancouver Folk Music Festival in 1990, on their 18th anniversary.
Moving back to Sarasota, she helped form the Florida Folk Music Association, creating and producing a popular radio show on WQSR FM, A Tale in Your Ear, which ran for two years and featured a full cast of grown and child actors performing classic stories for children. She also wrote music for musicals produced at the Ringling Art Museum and the Golden Apple Dinner Theatre in Sarasota.
After her mother's passing in 1976, Holly bought a 30-day rail pass and went to see America, ending in the Pacific Northwest. Falling in love with the place and the people in a little artist's colony town called LaConner where she spent summers. In winter, she returned to Sarasota, where her daughter, Sagesse, was born in 1978. She began a career that continues today, singing for causes like Magic Skagit Music Festival and in concert halls, colleges, schools and folk clubs around the USA and Canada.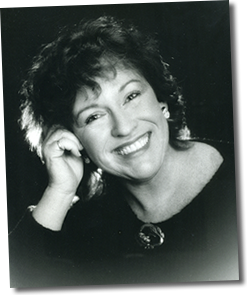 Scenes of old Florida and a desire to preserve the resources and the beauty of the place enlivened Holly's memories and birthed the first two songs she ever composed, leading her to a deep friendship with folk legend Will McLean, who opened her concert at the beautiful VanWezel Hall in Sarasota in the summer of 1979. But in 1980, Holly and Jessie moved for good to LaConner, where she founded The Kids of Our Age Theatre Company, writing one musical per year for the 35 or so kids who would appear each summer for theatre sessions, including an epic about the founding of the town that featured 50 local kids and adults, From Louisa Ann Conner, With Love.
The Skagit Valley was a marvelous place, as was the little cabin on Pull and Be Damned Road overlooking Skagit Bay. A dazzling array of artists, poets, and writers surrounded Holly and Sagesse. There, Holly founded Skagit Citizens for Nuclear Disarmament, did a lot of work with peace and justice issues in good company, and kept on touring, recording, writing, producing and directing theatre.
However, after 13 years in La Conner, higher education beckoned so after 17 years as an artist in the schools doing more than 100 residencies in theatre and music for The Washington State Arts Commission, the Arts Council of Nevada and The Alaska Arts Council, Holly and Sagesse moved to Olympia where Holly attended the Evergreen State College's first Masters in Teaching course, taking her master's degree and 60 credits towards a doctorate in 1992.
She taught in public elementary and high school for a few years, but decided the call of the road was more powerful, so started touring for Florida's Hillsborough County Arts Council doing water education through theatre and music from 1998 – 2001, writing and performing with her daughter and friend John McEwen in Tampa area schools for various water agencies in 2 original musicals.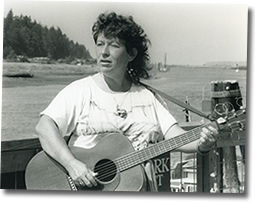 Holly continued doing water education for the City of Olympia's Water Resources Agency, writing and touring 3 more musicals. She's kept on touring, performing, teaching, and creating in Olympia, enjoying the thriving, diverse community that unfolds every day. Locally, she serves on the board of the Fellowship of Reconciliation, and internationally is on the advisory board of The Global Network against Weapons and Nuclear Power in Space, based in Maine, for whom she has traveled across the country.
Holly has been writing the New Business column for the bi-monthly newspaper Olympia Power and Light. 2013 marks her two-year anniversary with this great little paper.
Still committed to social justice, safe energy, peace, and love that can unite our human family, Holly is glad to be part of the work at hand, keeping the faith, writing songs that matter with an open heart and a seeker's spirit.