Music
Holly's love of music started with her mother's record collection, songs that celebrated the jazz age as well as silly songs like 'Three Wittle Fishies', which Holly learned to sing as soon as she could talk. Holly's mom, Sybil, was also a fine singer with a lovely voice, and she taught Holly songs she loved, giving her insights into phrasing, something Holly eventually understood. Holly's mom and her granny also took her to church, and there, she sang in the Methodist choir and performed solos for the Christian Scientists. Shy at first about singing in public, Holly overcame shaky vibrato and performed in musical theatre, choirs and folk groups in high school and college, winning awards and scholarships.
Title
Player
From The Holly Kaleidoscope CD
From the Love Will Lead Us CD
From The Bellybutton Club CD
From the True Stories CD
From the True Stories CD
From the Love Will Lead Us CD
At Theatre USF, Holly performed in plays, musicals, and folk groups that reflected the music of the 60s, with her sorority group Fides Five and in an award-winning trio called Two Rebels and a Cause. (Holly was the cause.) Today, she hosts a monthly Hootenanny in Olympia, Washington, proving you can't roll far from the folkie tree.
With her BA in Theatre from The University of South Florida and some opera in her repertoire, Holly was expected by friends to take her illustrious reputation in theatre on to New York and/or Los Angeles or even Chicago, where Second City beckoned, but Holly chose to move to England where she felt safe, welcome, and at home. Having invited her, her friend Diz Disley took Holly under his wing upon her arrival in London, bringing her on tour with him to folk clubs around England, introducing her to musicians in the folk and jazz worlds. With Diz's accompaniment, Holly performed at many fine venues including Wardour Street and Les Cousins, hanging out after hours at La Fiesta with Sandy Denny and her band, Fairport Convention. And so, music became central to Holly's life, and theatre was set aside for several years.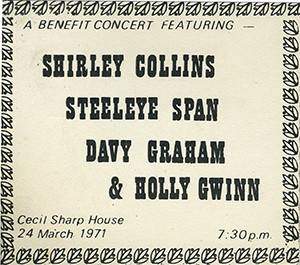 Pivotal in Holly's years in England, from mid-68 to the end of 1973, was her meeting with the handsome and legendary guitarist, Davy (he later added an 'e') Graham, to whom she went for guitar lessons. The two fell in love, and Holly began performing with Davey, recording with him, and managing his career. While they lived in Camden Town, Holly worked as receptionist for The English Folk Dance and Song Society, meeting many lights of the English folk scene, producing a concert to benefit Great Ormond Street children's Hospital. An article Holly wrote about Cecil Sharpe House and its facilities for London's music periodical New Musical Express enticed the band Pink Floyd to book rehearsal space there, but they were driven away by a frantic Morris Dancer on the staff, Nibs Matthews, who shouted, "It's not folk music! It's not folk mu-sic!" Needless to say, everybody was bummed since the band was preparing Atom Heart Mother and the sounds echoing up the winding staircase from the basement were compelling and superb.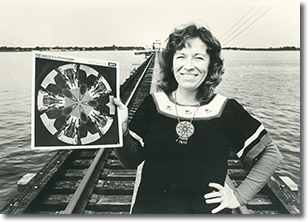 Davey and Holly married in 1972 at the home of Young Tradition folk group member Royston Wood and his American wife Leslie in Yoxford, Suffolk, living for a year in beautiful Sandwich, Kent, where they ran St. Mary's Folk Club with the Vicar of Sandwich in a redundant medieval church in the town. Together they played big concert venues in Paris, and did the St Tropez beach scene in the summer of 1973, returning to play the 9th Annual Cambridge Folk Festival with Steve Goodman, John Prine, Stephane Grappelli and other luminaries.
Holly recorded 2 albums with Davey, The Holly Kaleidoscope on Decca, Godington Boundary on President, both of which are reissued now on CD. You will find links to them below. She recorded a 3rd album, Folk in Sandwich, with other artists for ERON records; it's hard to find. Recently released is a live performance CD of Davey's called From Monkhouse to Medway, on which Holly sings Ode to Billie Joe with Davey's energetic accompaniment.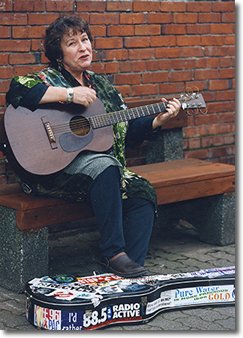 Then Holly's mother called her home. Returning to the States in 1974, Holly went to work in Florida dinner theatre, and ultimately began writing songs. She rewrote the music for a play featuring Andy Devine in which she played his daughter, recording her own music for the first time. Scenes of old Florida and a desire to preserve the resources and the beauty of the place enlivened Holly's memories and inspired the first two songs she ever composed, leading to a deep friendship with folk legend and Florida historian, Will McLean. Will opened her concert at the beautiful VanWezel Hall in Sarasota in the summer of 1979, an event sponsored by a wonderful artists' collective called Cheap Clothes, and this concert is available on tape and CD. Today there is an annual folk festival in Will's name on the banks of the Suwanee River in north Florida.
Soon, composing music for causes and for theatre became a fact of Holly's life. She wrote music for and performed in a children's theatre production of The Little Prince at The Golden Apple Dinner Theatre in Sarasota, and The Chalice by Doug Johnson, commissioned by the Ringling Art Museum in 1978. She also conceived and directed The Florida Folk Music Radio Theatre Company in classic stories with music she adapted for her popular weekly radio show called A Tale in Your Ear, which ran from 1975-78 on WQSR-FM out of Sarasota, Florida. Along with that, Holly wrote songs that educated and entertained on serious issues like nuclear power, war, and human rights. An Alternate Energy Plan or Let's Poop Our Way to Peace and Prosperity was one of those humorous songs, getting the attention of Country Joe MacDonald and Pete Seeger.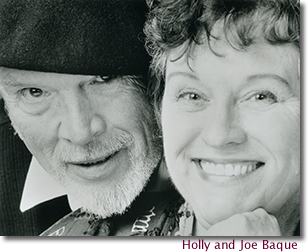 Holly and Sagesse moved to the Pacific Northwest in 1980 and from the mid-80s into the 2000s Holly was an Artist in the Schools doing music and theatre with kids for arts commissions in Washington, Nevada, Alaska and Florida for 17 years. During this time, Holly wrote 12 musicals - some for LaConner-based Kids of Our Age Theatre Company which she founded and directed from 1980 to 1985, some for performances during residencies around the state of Washington, and some for water agencies to educate about water quality and conservation. These are: Janey and the Dream Circus; From Louisa Ann Conner, With Love; Hey Kids, It's the Real Thing!; Midsummer Night's Dream - adapted as a musical for a cast of children; My Wonderful Life; Cousin Calliope's Traveling Show; The Florida Water Story; Sweet Florida Water; The Olympia Water Story; Water Wonders; Water From the Springs; Manatee Jones and the Raiders of the River (using batiked rod puppets); and music for Alice in Worldwide Wonderland, book by Seattle playwright Cheryl Read.
To great acclaim, Holly performed a retrospective on 40 years of musical activism, Gallstones in the Belly of the Beast, at the Roundhouse Theatre during the World Peace Forum in Vancouver, BC, in 2006. The Forum was attended by representatives from 103 countries. Following the fracturing of her left femur in early 2007, Holly's recovery process and the support of her community led her to compose and perform a celebratory musical evening called Femur, The Musical! This night of whimsy and gratitude contained hilarious original songs like Anesthesia, Constipation, and Spotted Dick. It's an English dessert. Really.
Davey Graham passed away at age 68 in Camden Town, London in December 2008, mourned today throughout music communities on many continents because of his lasting contributions to guitar styling, tunings, and innovative arrangements of traditional tunes to eastern settings. He is also missed because he was a real gentleman and a scholar, with a most unusual and wonderful way of looking at the world. He and Holly remained married for 24 years, reuniting at the 1990 Vancouver Folk Music Festival where both performed, and again at the Edmonton Folk Festival. After that, they kept in touch by phone and letter, a friendship that was unfailing. Davey's discography is vast and easily accessible, along with numerous YouTube pieces and tributes. You will find links to some of them here.
Holly continues to give concerts and performances around the state of Washington and occasionally Florida, as well as on radio and television. She also lends her love of creating factual, educational songs to important peace organizations like The Global Network Against Weapons and Nuclear Power in Space, The Fellowship of Reconciliation, many peace and justice groups, environmental groups, and to the cause of safe energy without coal and nuclear.
Holly's activism through the performing arts continues to this day, as does her work creating musicals that deal with critical issues. In the works is an album of songs from Patterns in Nature Summer Art Camps composed and performed with young campers over 19 years, and a new musical about America's addiction to war and anonymous drone killings.
Ah, but Holly also writes really lovely songs that have no agenda! Stay tuned.
Recent recordings
To purchase any of these recordings, .

Outsource This!
Holly's latest album.

Earth Anthem
A reissue of Holly's first solo album recorded in the San Francisco Bay Area in 1982. It features many fine musicians from jazz and folk scenes, adding their genius to the songs. The album was reviewed by Heartsong Review which said "Earth Anthem is a beautiful classic work by a wonderful singer. This is one to keep." Pete Seeger and Contry Joe McDonald picked up Alternate Energy Plan and circulated that song to their playlists.

True Stories and Cautionary Tales
With pianist Joe Baque, features original jazz infused lyrics and melodies.

Love Will Lead Us
A CD of songs for the journey to peace. Holly uses humor to teach with songs like "Fill it Up Again," sung by Nona, also known as "The Non-Biodegradable Woman."

The Bellybutton Club
Dedicated to the child in all of us who share visions of a peaceful, joyous, plentiful world.

Flying Bras at Sunset: Live and in Good Company
Features Holly in 16 live performances with a variety of great musicians and radio hosts. Cover art by 12-string guitarist and author Sam Weis.


Four Songs to Cheer You
They do exactly that – they cheer you with an ode to aging, a protest to fracking, a poem to love's power, and a song for the salmon's returning. Cover art by Sagesse Graham.


The Holly Kaleidoscope
I was married to Davy Graham for 24 years, up close and then over an ocean and a continent. He deserves the title "legendary guitarist" and he was still going strong in the UK, touring again until his death in December, 2008. I made two albums with him in 1970 and 1971. The first is now offered as a CD on his website. I had a lot of vibrato in those days, but our work together on "The Holly Kaleidoscope" (Decca) and "Godington Boundary" (President) was pretty good and stands the test of time. Here's a link to the album which is now available, and here's a link to Davy's site. Enjoy one of the great players of the age.
Femur, The Musical!
DVD. This night of whimsy and gratitude contained hilarious original songs like Anesthesia, Constipation, and Spotted Dick. It's an English dessert. Really.