Music
With my BA in Theatre from The University of South Florida and a lot of folk and musical theatre in my repertoire, I was expected by friends to take my pretty good reputation in theatre on to New York and/or Los Angeles or even Chicago, where Second City beckoned. Instead, I chose to move to England where I felt welcome and at home. Having invited me, my friend Diz Disley took me under his wing in London, bringing me on tour with him to folk clubs around England, introducing me to musicians in the folk and jazz worlds. With Diz's accompaniment, I performed at many country folk clubs and London venues, hanging out after hours at La Fiesta with Sandy Denny and her band, Fairport Convention. And so, music became central to my life and theatre was set aside for several years.
Title
Player
From the Love Will Lead Us CD
From the Flying Bras at Sunset CD
From the Earth Anthem CD
From the Earth Anthem CD
From the Flying Bras at Sunset CD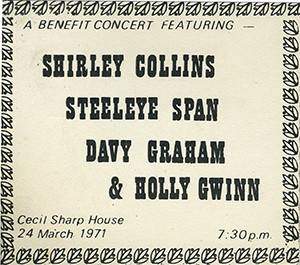 Pivotal in these years in England, from mid-68 to the end of 1973, was meeting the handsome and legendary guitarist, Davy (he later added an 'e') Graham, to whom I went for guitar lessons on Guy Fawkes Day. We fell in love, and I began performing and recording with him and managing his career.
I recorded 2 albums with Davey, The Holly Kaleidoscope on Decca, and Godington Boundary on President, both of which are reissued now on CD although finding them is hard, and the rights to Davey's estate are still unsure.
Returning to the States in 1974, I performed in Florida dinner theatre, rewrote the music for a play featuring Andy Devine in which I played his daughter, and, having learned to play the guitar at last, recorded my own music for the first time. Memories of old Florida and a desire to preserve the resources and beauty of the place inspired the first two songs I ever composed, Sunny South and Florida Song. Further compositions educated and entertained on serious issues like nuclear power, peace, justice, environmental issues and human rights. Soon, composing music and theatre for classrooms, camps and causes became a fact of my life and remains so.
DISCOGRAPHY
The Holly Kaleidoscope – Decca Records, London, with Davey Graham 1970
Godington Boundary – President Records, London, with Davey – 1971
Folk in Sandwich – ERON Records, England, with various artists - 1972
Earth Anthem – 1980, The Bellybutton Club – 1986, Flying Bras at Sunset – 1995
True Stories and Cautionary Tales – with Joe Baque – 2000, Outsource This – 2004,
Love Will Lead Us – 2006, Four Songs to Cheer You – 2014

RADIO
A Tale in Your Ear - Florida Folk Music Company weekly show with a full cast performing folk tales, WQSR-FM Sarasota, FL 1975-78

MUSICALS and PLAYS
The Chalice – commissioned by The Ringling Art Museum - Florida 1978
Janey and the Dream Circus
From Louisa Ann Conner, With Love
Hey Kids, It's the Real Thing!
Midsummer Night's Dream - adapted as a musical for a cast of children
My Wonderful Life
Cousin Calliope's Traveling Show
Gallstones in the Belly of the Beast - World Peace Forum in Vancouver, BC, 2006.
Femur, The Musical! - Celebrating recovery from a spiral fracture of the left femur
with the help of friends and community – 2007
14 short plays for classrooms of 22-30 kids composed during residencies for WASAC

ENVIRONMENTALTHEATRE
The Florida Water Story
Sweet Florida Water
Manatee Jones and the Raiders of the River (using batiked rod puppets)
The Olympia Water Story
Water Wonders
Water From the Springs
Alice in Worldwide Wonderland - music

Recordings
To purchase any of these recordings, .

Outsource This!
Holly's latest album.

Earth Anthem
A reissue of Holly's first solo album recorded in the San Francisco Bay Area in 1982. It features many fine musicians from jazz and folk scenes, adding their genius to the songs. The album was reviewed by Heartsong Review which said "Earth Anthem is a beautiful classic work by a wonderful singer. This is one to keep." Pete Seeger and Contry Joe McDonald picked up Alternate Energy Plan and circulated that song to their playlists.

True Stories and Cautionary Tales
With pianist Joe Baque, features original jazz infused lyrics and melodies.
This album is available from cdbaby, Apple Music, Amazon and other download and streaming services.

Love Will Lead Us
A CD of songs for the journey to peace. Holly uses humor to teach with songs like "Fill it Up Again," sung by Nona, also known as "The Non-Biodegradable Woman."

The Bellybutton Club
Dedicated to the child in all of us who share visions of a peaceful, joyous, plentiful world.

Flying Bras at Sunset: Live and in Good Company
Features Holly in 16 live performances with a variety of great musicians and radio hosts. Cover art by 12-string guitarist and author Sam Weis.
Download the song "Flying Bras at Sunset" from CDBaby, or through Apple Music, Amazon and other download and streaming services.


Four Songs to Cheer You
They do exactly that – they cheer you with an ode to aging, a protest to fracking, a poem to love's power, and a song for the salmon's returning. Cover art by Sagesse Graham.


The Holly Kaleidoscope
I was married to Davy Graham for 24 years, up close and then over an ocean and a continent. He deserves the title "legendary guitarist" and he was still going strong in the UK, touring again until his death in December, 2008. I made two albums with him in 1970 and 1971. The first is now offered as a CD on his website. I had a lot of vibrato in those days, but our work together on "The Holly Kaleidoscope" (Decca) and "Godington Boundary" (President) was pretty good and stands the test of time. Here's a link to the album which is now available, and here's a link to Davy's site. Enjoy one of the great players of the age.
Femur, The Musical!
DVD. This night of whimsy and gratitude contained hilarious original songs like Anesthesia, Constipation, and Spotted Dick. It's an English dessert. Really.