Video
One of the best things about writing songs with a message for use in a movement is when activist filmmakers use them in films. Holly has been honored to have a few of her songs included in such a way to accompany images of people making a difference speaking truth to power, or standing up to the pipeline purveyors or fracking proponents.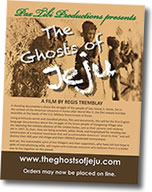 Documentaries about the arming of space have featured Holly's tongue-in-cheek but factual Planning a War in Space, as well as Poison Arrow, written for The Global Network Against Weapons and Nuclear Power in Space. Christine Rose was the first to use Holly's song Love Will Lead Us in her documentary film, Internationally Speaking, and now Regis Tremblay has included it in his excellent documentary The Ghosts of Jeju which documents the brave resistance of folks from all over the world on that South Korean Island of Peace to a destructive naval base, and other short films about resistance to the crimes of coal and shale oil in American communities.
Over time on this page you'll find links to performances by Holly on YouTube and connections to sites concerning life and work with Davey Graham, her late ex-husband whose legendary status in the world of guitarists was well-earned and lives on.
Holly concert featured on Folk-n-Trad
Holly's concert at Traditions
Video feature Holly's songs.