Remembrances
Well, we are at an age when our friends are leaving the planet and moving on to whatever is next. Here, Holly remembers them, and herein we find the heart of what is becoming a memoir…and about time, too.
Davey Graham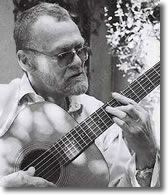 Like many people in his life, I met Davy Graham (later to add the 'e' to his name for reasons he never shared) when I went to him for guitar lessons. It was early winter of 1969. There had been a sign on the wall at the Electric Cinema in the Ladbroke Grove neighborhood that read "Davy Graham is now giving guitar lessons", with a number. I called it because the name, not famous to me, newly-arrived American that I was, gave me a frisson and a sense of deja vu. He was living at his mother's then, in the flat he and his sisters and brother grew up in near Portobello, and his hair was so short I thought he had just been released from prison. (I did not say that, however!) He sported what I now call the 'Celtic Afro' of a man whose dad was Scottish and mother from British Guyana. When it got longer, it could get unruly. I once tried cutting it for him and it looked like a lumpy pincushion. More...
Diz Disley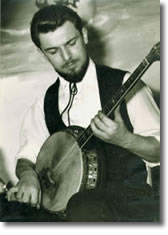 Canadian-born British guitarist and Django Rheinhart afficionado Diz Disley, my longtime friend and a wonderful character, passed away March 22, 2010, at the age of 79. He had suffered in the last few years from a weak heart, and had been put in hospital recently needing care for that and incipient dementia.
Diz was one of a kind. I met him in Florida when he came to Tampa to play a gig that dematerialized at The University of South Florida, leaving him adrift until money could arrive to get him home to the UK. I met him at the folk club that had brought him to the states, sang with him and became his friend, offering him a place to stay at my off-campus apartment. He accepted, and we became fast friends. More...
Sister Jackie Hudson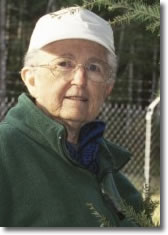 I write this because I want you to be aware of and outraged by the situation faced by many thousands of incarcerated people in this country today...in private, for-profit prisons that are about to challenge China's cheap labor force in the name of corporate greed.
My dear friend, Sister Jackie Hudson, Dominican nun and Plowshares activist, passed away in August, and I am sad indeed. With her partner, Sue Ablao, she ran the Ground Zero Center for Nonviolent Action in Bremerton (organizing resistance and vigils regularly at the Trident nuclear submarine base at Bangor) and she was one of the nuns who went to federal prison for 2 1/2 years for a simple symbolic nuclear disarmament action in Colorado in 2002, which I wrote about in the song "Sisters of Sacred Earth and Space". More...